RepAir
Can a t-shirt save the world?
Kloters asked this question and started working to find an answer. The result is RepAir, a genderless cotton t-shirt, entirely produced in Italy, that cleans the air from pollution. It's able to do it because it utilizes "the Breath®", a patented material, certified according to ISO, ANSI /AHAM AC – 1- 2002 standard, that captures pollutants including NOx, Sox, bacteria and unpleasant odors.


Every t-shirt is able to offset the pollution emissions of two cars
RepAir is a revolutionary project that goes beyond the traditional concept of green fashion. It is not just produced in a way that respects the environment, but it is also acts virtuously and represents an active way of improving the quality of the air we breathe. Extensive studies, including several lab tests based on international standards and chemical analysis on the air, have proved the effectiveness of RepAir: every t-shirt is able to offset the pollution emissions of two cars.
RepAir works with zero-impact and doesn't need to be activated or powered by any external energy sources. The revolutionary "theBreath®" cloth is composed of two external printable layers, a water-resistant anti-bacterial fabric that encloses an intermediate core, made of dioxin absorbent fiber enhanced by nano molecules, capable of separating, absorbing and retaining NOx, Sox, VOCs and other pollutants in the atmosphere.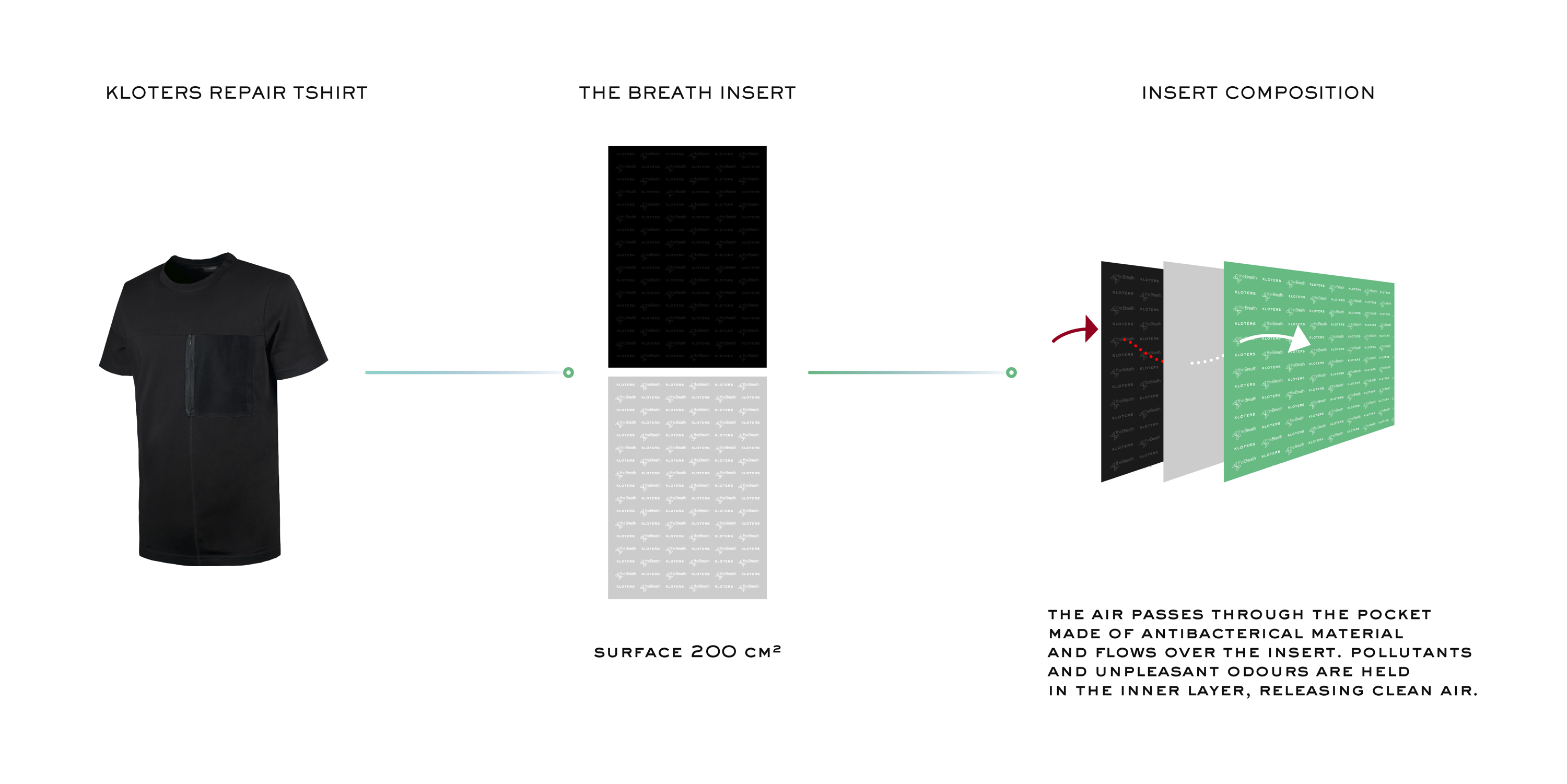 Comfort, style and sustainability
RepAir is not only technical gear. It is a fashion product, with comfort, style and sustainability, Kloter's values, are at its heart.

RepAir t-shirts, available in white color, feature timeless and smart design. Each item is made to last beyond a single season, matching the performance characteristics of a long-lasting t-shirt by using high-grade cotton and reinforced seams. Longer lasting products mean a reduced need for new products and mean a positive impact on the environment. Furthermore, the whole production is in Italy, by trusted suppliers, minimizing the impact of moving goods before they reach Kloters. Aesthetic refinement and deep concern for our planet go hand-in-hand in every RepAir product.
theBreath Technology
The Breath was created to attract polluting molecules in its core layer.
The activating nanomolecules block the impurities inside its fabric structure and prevent them from being released back into the environment.
The Breath's technology is based on a "three-layered system", three active parts with different and complementary positions and roles. It is the core of this technology, made of carbon mesh on a polyester substrate mixed with active nanomolecules. Its main function is adsorbing gassy pollutants, making the air cleaner and more breathable.